Farashah Project (English/Arabic Cards)
Butterfly Communication creates communication cards to help low-level speakers of languages to communicate with each other. Currently we are working on the Farashah project to create communication cards for Syrian families and the people who support them.
Our first project was to make a set of cards for Syrian families and the people in the community who support them. The Basic Set of cards contains greetings, leave-takings, and general communication phrases (eg. Welcome, How are you?, How do you say ____ in English/Arabic?). We are currently expanding the project to include a set of Communication about Mental Health Cards. You can purchase the Basic Set below or donate towards the expansion sets.
Please contact us if you are interested in developing an app for this project!
Final Version Basic Set
The Basic Set (final version) is available for order. This full-colour illustrated set includes basic greetings, introductions, questions, feelings, and leave takings in English and Arabic. It comes with a Canadian Currency Card which shows the value of Canadian coins and dollars. It will include access to the audio when it is available.
Order 10 or more sets and get 15% off of the order (put TEN in the PROMO code). 
We are currently developing a mental health set (for counselors, psychologists, etc.). Please consider donating to this development. Donors who contribute $100 or more will receive a special discount code for any 2017 orders.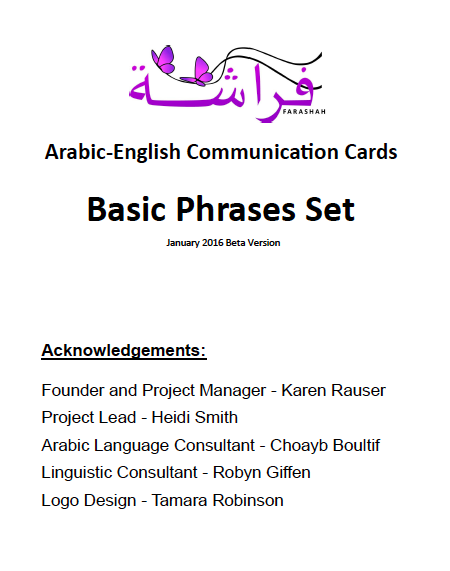 Follow us on Facebook and Twitter: